GARY & KARA'S BLACK BEAR HUNT - TOK ALASKA 2007
All winter I was deployed overseas and anxiously anticipating my return to Alaska and the 2007 bear hunting season. I returned, and two days later Shannon, my wife, Kara and I were in the woods setting up the bear station. Shannon had already put bait on the site before I returned, so all we had to do was build a stand and set up a trail camera. Once the station was set, we would check it twice a week to see if we had any bears coming in. A week and a half after we initially went in, we checked the bait and we had been hit. It was time to hunt! Our first actual "hunting" trip was planned for Memorial Day weekend, which just happened to be Kara's birthday weekend. Needless to say, she wasn't enthused about going hunting for her birthday, but she went anyway. I told her that I was giving her a "guided" bear hunt for her birth day and in Alaska that would cost $5000 or more and she was getting one (with me as the guide) for free. Believe it or not, that statement did not make her feel any different. We (Shannon, Kara and I) got to the stands Friday evening and the plan was to just sit and video any bears that came in that night and hopefully take something Saturday or Sunday. Shannon was going to do the same since he was waiting on DC to drive in from Anchorage on Sunday. Kara and I saw a bear Friday evening and Kara got excited...now she was ready to hunt, but mother nature had other plans. We had great weather Friday evening, but the rain came Saturday morning and although Kara loves me, I knew she would not be happy sitting in the rain, so we decided to wait until the rain stopped. But that didn't happen. It continued to rain Saturday and throughout the weekend until after we left on Monday afternoon. After that weekend, I found out that rain follows Shannon everywhere he goes...that figures! So, needless to say, we didn't get a bear for Kara's birthday, so the next time we would be able to hunt would be Friday, June 1st. Kara and I went down by ourselves that Friday and it didn't rain. I wonder why? Anyway, we got into the stand around 8:00pm. It was almost 11:00pm and Kara started getting tired so she laid down in the stand to take a nap. Not ten minutes later, a bear walked in. I whispered to Kara, "It's time to get up." She got up and we decided that this would be the one she took, but of course the bear didn't want to cooperate and for the longest time did not present us with a good angle for a shot. That turned out to be a good thing because both of our hearts were racing and we needed to settle down. After about thirty minutes, the bear gave Kara a good broadside shot and she didn't waste any time. She squeezed the trigger and made a perfect shot dropping the bear only five feet from where she shot it. Now is was time to take some pictures, field dress the bear, and head home. The bear measured 5'7" and was Kara's third big game animal (bull moose & whitetail deer).
I am so blessed to have a wife who enjoys the outdoors and will not only put up with me going on various hunting adventures, but will also, from time to time, go with me.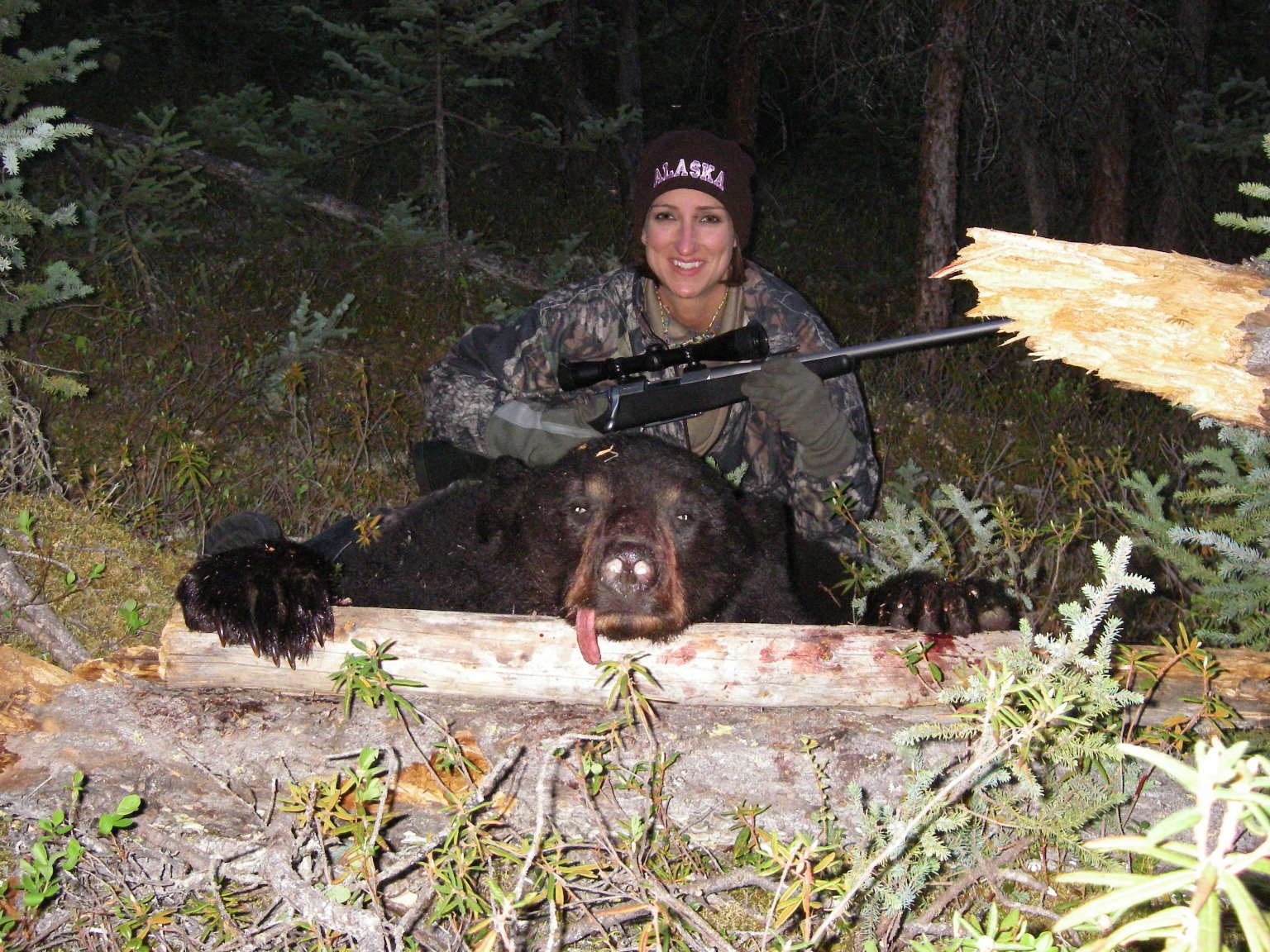 (click to enlarge)