KEITH'S BLACK BEAR HUNT - SEWARD ALASKA 2007
My hunt started out from the small boat harbor in Seward, Alaska the 26th of May. My hunting partner, Josh "Tader" Hatley along with Bill and Wally, who were there for the hiking were supposed to head to Day Harbor at noon with the Aquatic Water Taxi service. However because of a mechanical problem with the harbor fueling station we did not leave until after 1pm. To make matters worse it was starting to rain and the seas outside of Resurrection Bay en route to our original spot were running in the 10 to 12 ft range. After a brief discussion with Matt the owner and operator of the Taxi he suggested a spot near Bear Glacier and assured us we would see bears there. After the hour or so ride out he dropped us off and set a 1200pm Monday pick up time and left. We set camp, in the now pouring rain, around 3 o'clock and Tader and I set off to look around. After a 15 minute walk and our first sighting of a small bear high on a ridge we decided we had our spot along a small hill in the middle of a bowl valley and we waited. We spotted 6 bears high up along the ridges the first hour including a large sow with twins about 350 yards out. After about 2 hours and several far off sightings Tader and I were just about to head back and eat when "my" Bear started down the closest ridge in our direction. We sat and watched in disbelief as he continued down zig zagging towards the bottom. Every time he disappeared in the brush Tader and I would slide closer. We stopped 30 yards apart on the facing side of the small hill about 135 yards from the base of the ridge. I sat and watched him peak around the only pine trees near the base of the ridge. He came into view on my side of the tress. He waddled out, stopped slightly quartered toward me and I took the shot. I saw him stagger backward and then lost sight of him when he went behind the trees and into the brush. Having no hearing protection in when I fired, I frantically tried to ask Tader if he saw him run off. Just for the record, trying to communicate with someone quietly after firing a .300 Winchester Magnum is impossible. I could only hear my own voice echoing in my head. It sounded like I was screaming with a metal bucket on my head. Anyway…Tader had the Bear in sight and was ready to shoot again but he was paws up at this time about 8 yards from where I shot him. I used a 180 grain Premier Core-Lokt Ultra Bonded bullet from my Remington 700SS. The shot passed just behind his right front shoulder exiting out through his left rib cage. He expired in moments without making a noise at all. Very clean kill for which I was grateful for. My first bear ever measured 6'6'' from nose to tail with an unblemished jet black coat. All this happened inside of 2 hours and within 300 yds of our camp. I was a little worried about the condition of the hide as it did not stop raining until we were at the dock Monday afternoon. Luckily there didn't appear to be a problem with the hide when I dropped him off at Last Frontier Taxidermy Tuesday morning.

I hope everything turns out okay with the rug but no matter what I truly enjoyed the thrill of having harvested such a wonderful animal. I had the meat processed into sausage and hamburger that I will be very proud to share with my friends and family. I could not have done this without Tader who did most of the planning and guided me in the skinning process. I was so slow that he did the majority of the work so we would not die from hypothermia while I puttered along. It is an awesome experience to have the opportunity to hunt with someone who was so excited for me despite missing out on a bear of his own. We are already planning a fall trip so that I can help Josh harvest his first Black Bear.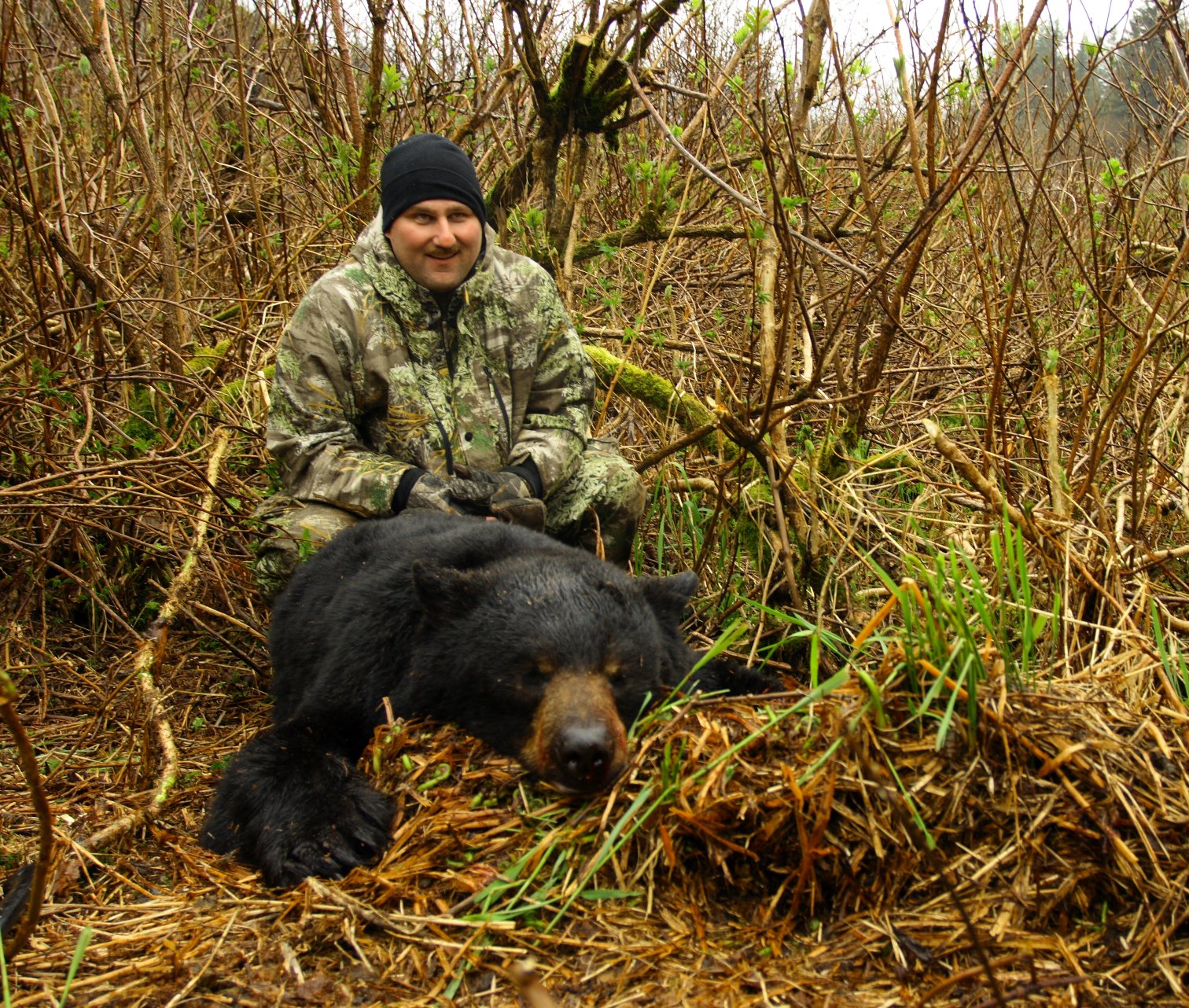 (click to enlarge)