SEWARD ALASKA 12 JULY 2009
On Sunday 12 July 2009, we headed to Seward Alaska to try are hand at this first Coho (Silver) Salmon fishing for the year, This was kind of a warm-up for Valdez in August, we needed to dust of the gear, and see how good of a "reel rebuild job" that Bob (from Bob's reel repair) did on my Penn 209 reels. Reports have been coming in on the AOJ website (link) that the Silvers (Coho) Salmon were in, out at Pony Cove, 30 miles south of Seward, in Resurrection Bay on the outside edge of the Gulf of Alaska. Now, there is a ton of good fishing to do around here in Alaska, but nothing, and I mean nothing, is better than the fight you get from a healthy Ocean-run Silver Salmon. The first staging of these Silvers early in the year are smaller fish, in the next 6-7 weeks they will double their body weight in order to gain strength for their up river run to their spawning grounds. Anyone who has ever trolled for these Salmon off down-riggers can tell you story after story of the crazy things that can happen while you are doing this type of fishing! Doug had been camping all week on the Russian River, so he was already near Seward and he just met us there. We had a great action filled day catching Salmon. The Military (both the Army and the USAF) have "recreation" centers right off the highway about a mile from the launch area. They are basically just camp grounds, and the Army side is a whole lot nicer than the USAF side. The fish cleaning stations on both sides are real nice, they are always clean, have nice water hoses, and have all stainless steel tables. I think there use of these facilities are free for guests, but others are supposed to pay. I don't know if that's true or not, I don't pay, and I don't ask. I try to be as respectful as I can to others who are cleaning their fish in there (as if they have priority over my free-lance use), and I have never had a problem. I figure that I am active duty military, and those types of services are funded by the Government for use by the military community. I always clean up my mess, and leave the place neat and orderly. I feel no guilt in using these services. Enough about that, we had a great day fishing, AJ did a great job driving (as always) and we caught some great looking fish!

Just to name a few examples of the crazy events that have taken place while trolling for Silver Salmon;
- Fish jumping into the boat
- Two fish on the same hook
- A bigger fish stealing a lure from a smaller fish's mouth
- Sea-lion attacks
- Shark attacks
- Fog so thick you get lost (just ask Shannon)
- Bald Eagles stealing your fish
- And the list goes on and on..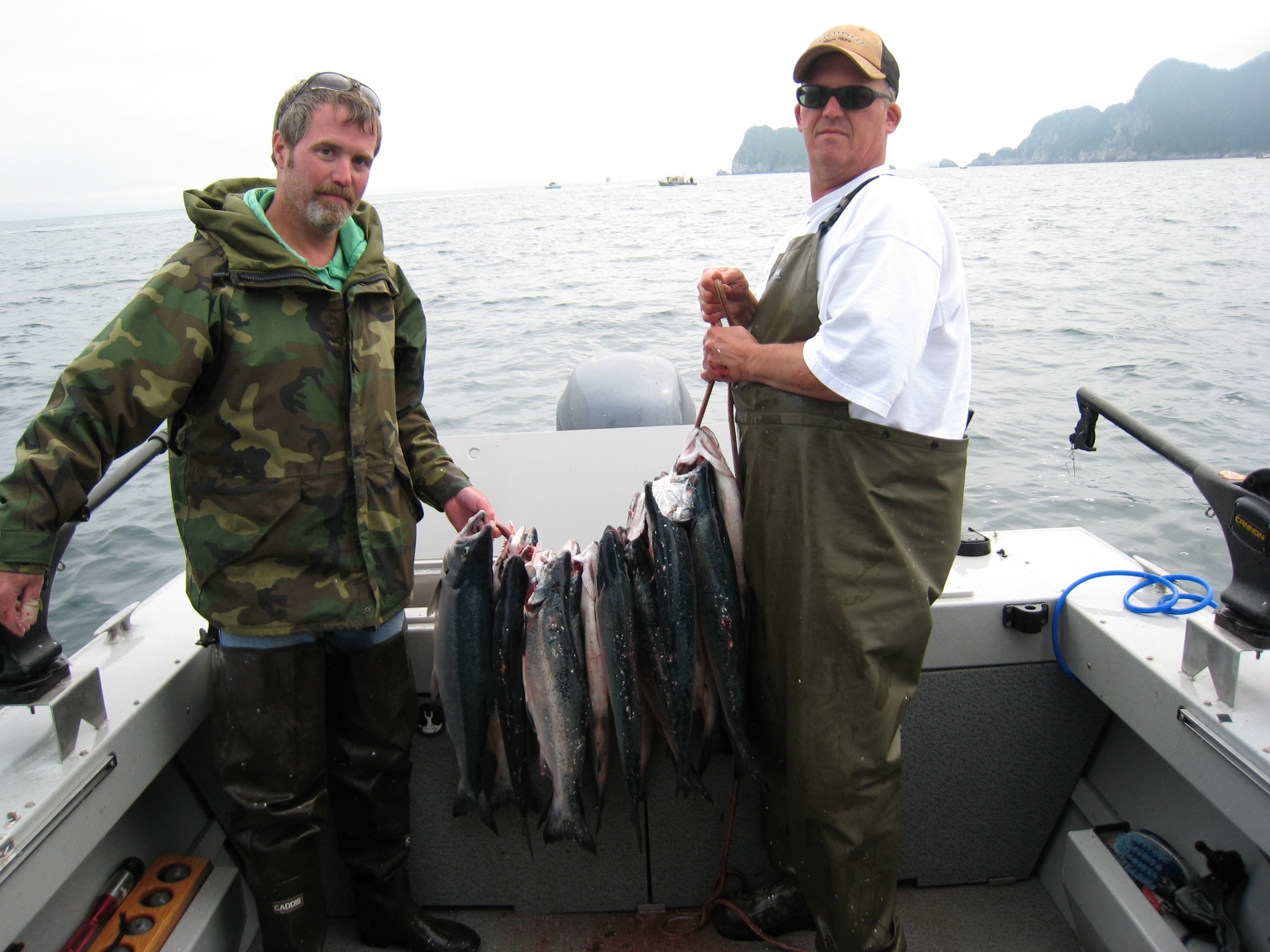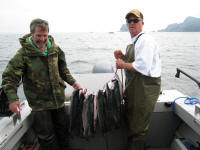 (CLICK THUMBNAILS TO SEE FULL PICTURE)